Who we are.
S S Energy Technologies is an innovative company that designs and delivers secure and sustainable energy solutions to our customers, built on years of experience by our team.
We tailor to your needs.
We start with zero. No pre-packaged solutions, no cookie-cutter, one-size-fits all answer. We begin with a "blank sheet" to listen and customize the right mix of energy resources to establish the right fit for each customer's unique situation.
Turnkey solution opportunities.
With staff cutbacks and limited budgets, we understand how difficult it may be to hire personnel with the knowledge to oversee complicated design, budgets, construction and costs - we offer not only our years of expertise but our support and supervision to the finish, providing savings to the bottom line.
Green technology.
Through emission reduction and our specialized software capabilities, S S Energy Technologies offers a true green, renewable, cost-saving solution.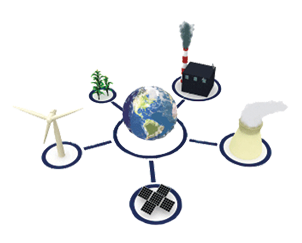 Generator control systems.
Reduce costs and improve reliability through controls and load shift efficiency.
Improve system reliability by adding emergency standby generation capacity and/or automating existing generation transfer schemes to keep selective loads or entire loads operational during utility outages.


Capitalize on utility capacity shortages by exporting excess generator capacity to utilities.
Improve generator efficiency and usage by installing a load demand generator sequence system.
Generator Controls
Auto Throw-over Schemes
Sequence of Events Recording
Load Stabilization Systems
MicroGrid technologies
Microgrids provide power quality, reliability, and security for end users and operators of the grid
Integration of distributed and renewable energy sources
Smart grid technology integration
Minimize carbon footprint and green house gas emissions by maximizing clean local energy generation